Learning and Collaboration Furniture
Flexible, Powerful, and Mobile Solutions
Today's most effective learning environments have integrated traditional classroom experiences with layouts that are conducive to collaboration. They must offer the learner choices on where they sit, as well as the type of posture created. Some prefer standard work surfaces, others prefer the ability to perch at a desk that allows sitting or standing, while others like a more relaxed lounge environment. Falcon is working to modernize the learning facility by manufacturing products that empower this diverse type of learning environment.
Downloads

LEARNING & COLLABORATION SOLUTIONS BROCHURE
Training Learning and Collaboration
Download Brochure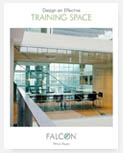 DESIGN AN EFFECTIVE TRAINING SPACE
Learn about the fundamentals of creating a flexible and effective training room space.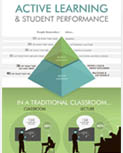 ACTIVE LEARNING INFOGRAPHIC
Traditional "Lecture" vs. SCALE UP learning environments
Download Infographic
FEATURED TABLE COLLECTIONS
---