Flexible, Powerful and Mobile
Learning
& Collaboration
Explore our inspired furniture collections through beautifully curated images that bring our pieces to life.
Learn about the fundamentals of creating a flexible and effective training room space.
Designing an Effective
Learning Space
01.
Space Planning
The best place to start is with the room itself. Wide doors assist in moving furniture in and out of the space. Other key considerations are room size, HVAC and ventilation requirements, ADA, wall space, and ancillary space.
02.
Size and Capacity
Rooms intended for different types of training must consider size. Classrooms require from 15 to 17 square feet per student.
03.
Ceiling Height
Anything below 10 feet may pose problems for instructors using visual aids. Screen height should enable learners in the rear of the class to see above (not around) the heads of the people in front of them.
Learning Space Considerations
In addition to being wheelchair friendly, the room needs to provide space for guide dogs, assistants and equipment (such as recording devices), and should be designed to meet specific ADA guidelines, such as accessible doors, hardware and signage.
Wall Space
Capitalizing on wall space is an easy way to gain flexibility in the classroom. Walls need open areas for whiteboards or projection screens. It is also important to leave space for acoustic panels to reduce unwanted noise.
Ancillary Space
Learning doesn't stop inside the classroom and a secondary, more informal environment is needed to digest information. Common areas should be close but not directly adjacent to the training room so that their foot traffic isn't distracting to those inside the room.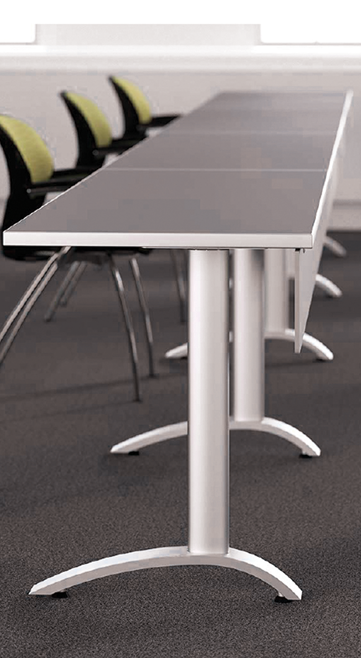 Flooring
Choose a low-pile commercial carpeting for improved acoustics. Look for a pattern that will remain stylish until you plan to renovate the room (approximately 10 years) and will not highlight the inevitable spills of everyday use.
Lighting
Proper lighting sets the stage for a productive learning environment. Lighting needs to be set to evenly light a room with the riight color temperature and brightness for the task at hand. Today's LED lighting systems are both energy effiecient and adaptable for learning and education.
Technology
The moden learning environment requires tables and seating that are designed to work with laptops and mobile devices. Falcon makes tables and booths equiiped with USB and charging stations. As technology evolves, Falcon adapts and incorporates the changes into its furniture design.
The Falcon Advantage
Falcon Seating
Style and durable construction make our seating collections perfect for education. Our chairs can be finished in a wide variety of colors, including school colors and logos. Our selection of seating includes chairs that will withstand 350 pounds.
Falcon Tables
Tables are where people, learn, eat, work and most importantly build relationships. For over 60 years, Falcon has been the trusted source for high quality tables. Our tables are available in ANY size, ANY shape, ANY finish and are manufactured in America with all North American sourced raw materials.
Power Options
Today's high-tech environments demand advanced power solutions that are not only accessible but stylish. Falcon offers power in several configurations, ranging from simple plug-and-play to multi-circuit daisy chained solutions. Options include simplex, USB, and USB-C outlets. Our power units are appropriate for use in dining tables, conference tables, training tables, as well as booths and lounge furniture.
Featured Products
A few of our favorite products that are a perfect fit for classrooms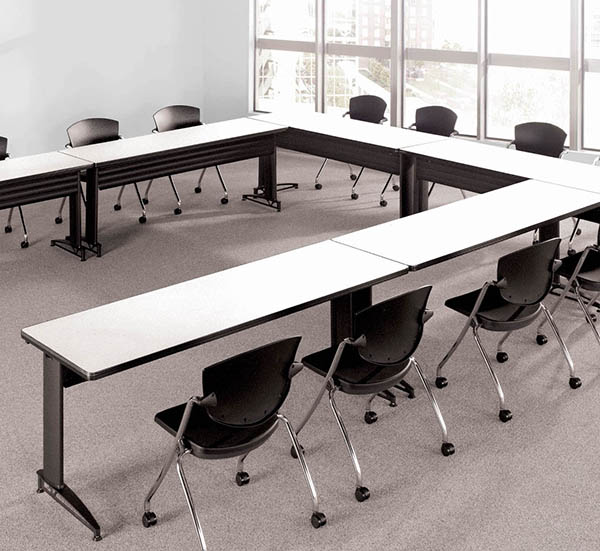 FAQ's
Since 1959, Falcon has been the 'go to' resource for designers and architects who specify high-quality, commercial grade, tables, chairs, booths, and modular seating.