It's finally here. Well, make that partially finally here.
After 14 months of lackluster temporary food options at Midway Airport, the first round of new, permanent restaurants will be open for business July 30 as the airport unveils a sleek new food court in previously unused space in Concourse A.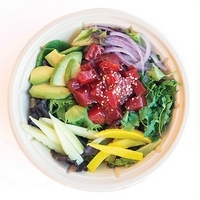 The 6,300-square-foot area, which offers plenty of light and broad views of the runways courtesy of floor-to-ceiling windows, resembles a modern kitchen remodel: Carrara marble counters, light wood accents and trendy white midcentury seating. More important for travelers who have bemoaned the loss of Harry Caray's, Potbelly and McDonald's, the food court also hosts three new restaurants: Arami, a spinoff of the West Town sushi restaurant created by Michelin-starred chef Ty Fujimura; Woodgrain Neapolitan Pizzeria, a wood-fired pizza chain with three west suburban locations; and Billy Goat Tavern, the Chicago institution made famous by a "Saturday Night Live" skit. The enclave will also include a new, sit-down location for Reilly's Daughter, the longtime Oak Lawn Irish pub that's operated an airport outpost for more than 15 years, plus a fresh home for Nuts on Clark.
"We know that some people have expressed concern over the loss of old favorites, but we think this new round shines a light on some of Chicago's great food options," says Erin O'Donnell, Midway's managing commissioner.