THE MART is a Chicago icon, fostering the city's leading position in the American convention and tourism industry since the 1930's. Owned by Vornado Property and located on the beautiful Chicago River, this iconic building is home to the world's largest commercial and residential design center, visited by an estimated 10 million people annually. Encompassing two city blocks, rising 25 stories, and spanning 4.2 million gross RSF of space, THE MART has become one of the premier business venues in Chicago for culture, design, and technology, featuring corporate offices, meeting rooms, restaurants, and over 250 design showrooms.
In addition to its landmark location, stunning Art Deco architecture, spacious outdoor space, and premier design partners, THE MART is home to the new WorkLife Meetings conference center by JLL. WorkLife is a 21,000 RSF venture located on the second floor of THE Mart. It is a conferencing center described as "A space to focus." This "modern business tool" is designed to "keep you productive, efficient, successful."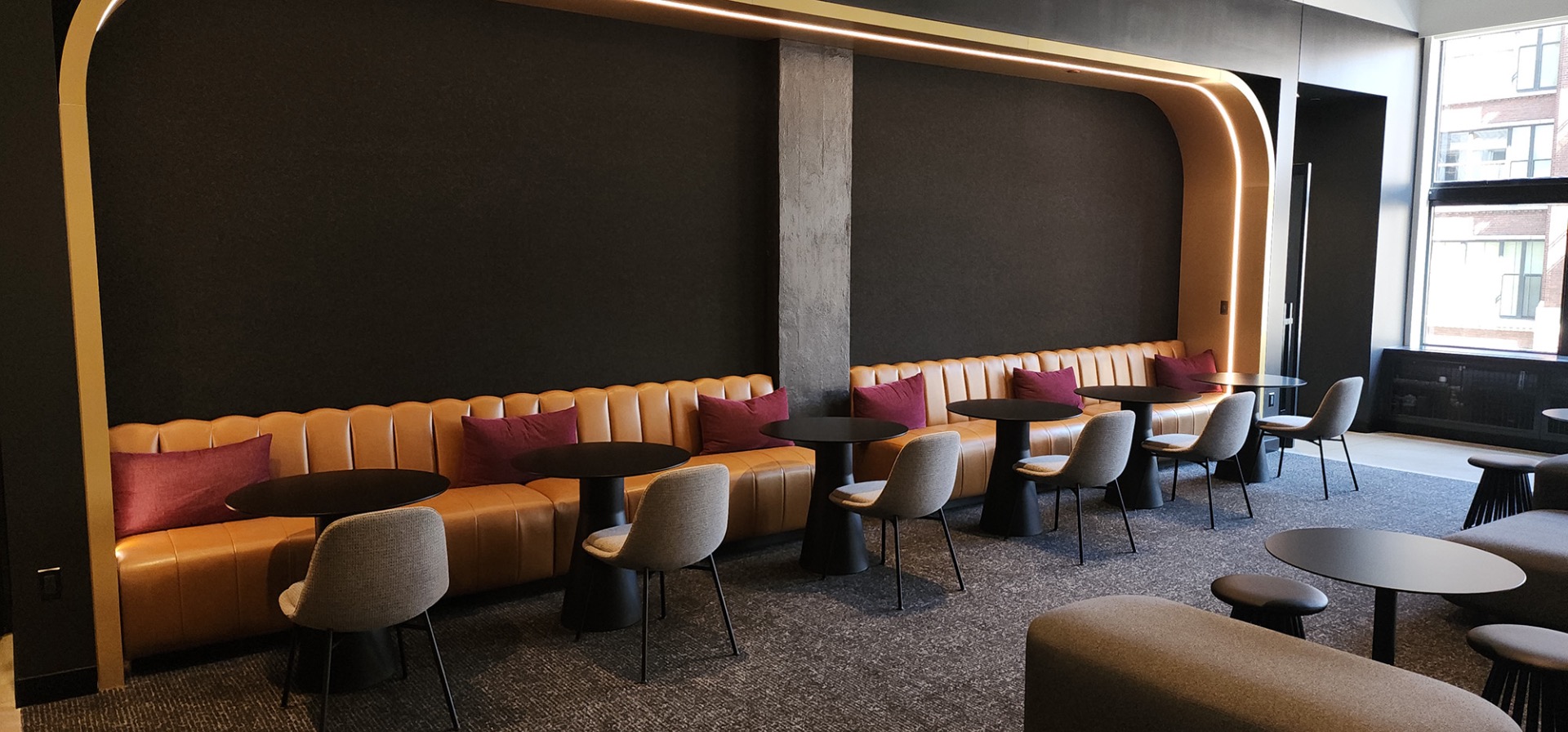 Gensler, the lead architecture firm, partnered with Elizabeth Comeaux of Forward Space, LLC to bring this aspirational vision to life. Gensler's intention for WorkLife was to create a dealer-forward showroom, featuring furniture, accents, and design elements from the elite, high-end brands that are existing tenants of this landmark design center. One of the brands Forward Space connected with was Falcon, a US-based leader in the custom commercial furniture industry. Falcon rep Mary Beth Brudnak was approached for Falcon's reputation in the industry along with their ability to create customized furniture designs.
Using inspiration images and designs provided by the client, Falcon designed, manufactured, and installed custom booths, to be used in three separate spaces within the WorkLife center. Mary Beth indicated that the main priorities were durability and design. The booths used were a version of the channel-tufted Falcon Philly booth, with the back height and platform customized for the needs of the space. The majority of the booth space was upholstered in DesignTex Vero in Moccasin, a durable light brown faux leather vinyl with a slightly textured leather grain. Another section of the space features the same silhouette of the Philly booth, upholstered with Ultrafabrics Lush Cordovan, a luxurious performance velvet in a sophisticated shade of burnt umber.
Whether you're a native Chicagoan, or in town for a business or pleasure trip, be sure to stop by THE MART. Visit the Falcon showroom, enjoy a delicious bite to eat at the food court, and check out the new state-of-the-art WorkLife conference center.