Montgomery Whitewater Park joined the adventure-seeking community as it unveiled its much-anticipated grand opening in early July 2023. This thrilling addition to Montgomery's exciting recreational landscape promises an unforgettable experience for water and land sports enthusiasts of all ages. The park boasts a series of artificial whitewater channels designed to simulate the twists, turns, and rapids of natural rivers, providing an exciting challenge for both beginners and seasoned rafters alike. Montgomery Park is preparing to open walking, hiking, and biking trails, elevated ropes courses, and rock climbing in the near future. And at the end of an action-packed day, Montgomery Whitewater has just what everyone needs; a full-service indoor/outdoor restaurant & bar overlooking the exciting rafting channels.
In order to fully realize the vision for Montgomery Whitewater's new bistro, Kathy Brown, Director of Interior Design & Project Management with Division 12 Consulting, reached out to seasoned Falcon Furniture rep, Tommie Ford. Falcon, known for impeccable craftsmanship and attention to detail, was a well-vetted partner, perfect for bringing this vision to life. Kathy and Tommie's goal was to create stunning, durable, dining benches for this active restaurant. With a few inspirational images in hand, the duo set off to create one-of-a-kind custom booths for this unique dining space.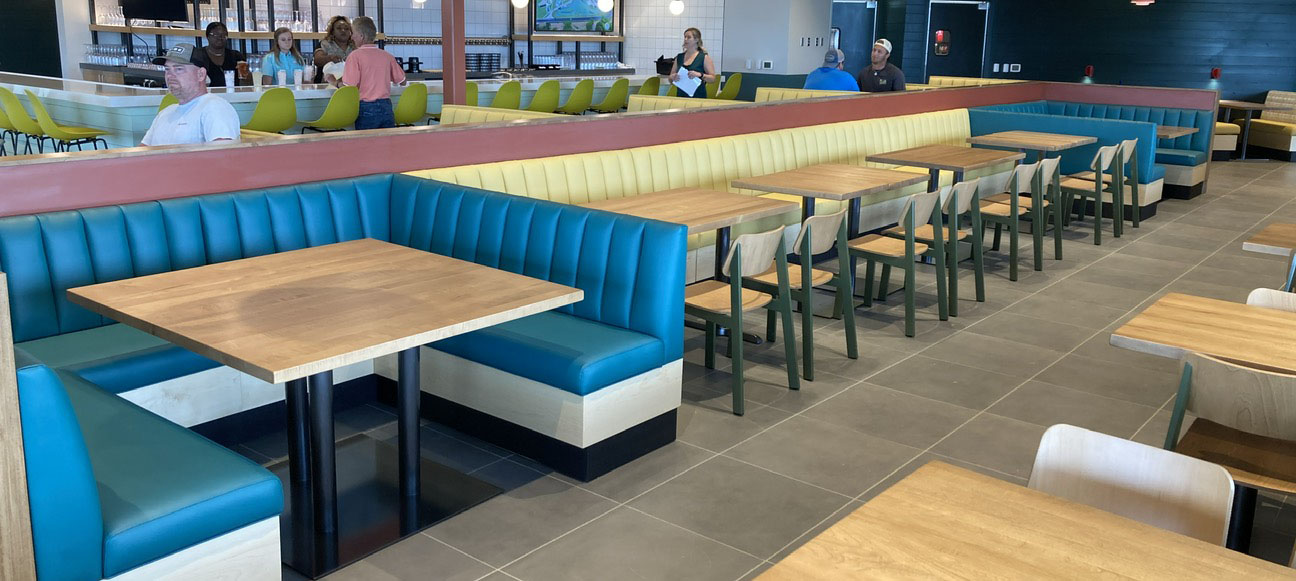 The client's booth inspiration images showed sophisticated channel stitching set atop a thick wooden island. With the client's inspiration and durability/cleanability as a top priority, Kathy and Tommie began the project. The silhouette of this bench is closest to Falcon's Westbury, though it is a completely custom design. A slim seat, higher island, thicker toe-kick, and coated fabric choice all combine to create a luxurious, ergonomic booth, ready to provide comfort while it withstands the rigors of this high-traffic restaurant. The easy-to-clean vinyl fabric selections of CF Stinson Laredo and Wolf Gordon Intersection provide a perfect pop of color for this high-energy atmosphere.
As Montgomery Whitewater opens its doors to an exciting season of thrills, the addition of the beautiful new Falcon booths allows guests to enjoy a seamless transition from the park's exciting outdoor activities to a relaxing and enjoyable dining experience. Be sure to go for the day and stay for dinner!